2 months have gone by since SSF set up camp in Medyka, a Polish town on the Ukrainian border. Until then, SSF's volunteer Ukrainian rescuers had been actively helping. They still are, and they are trying to coordinate the rescue efforts.
Here is our action's movie :
Let's walk through the operations, day by day.
Medical help
In the Polish town of Medyka, on the Ukrainian border, a medical SSF team has set up 2 First Aid stations, heated, that operate on a 24/7 basis.
This SSF team that works around the clock consists of 2 doctors, 2 nurses, 2 medics and 1 logistician. Many volunteers, including 4 firefighters from Paris, are helping the SSF team by taking shifts. To date, our team has helped over 8,500 people, mainly women and children, who were exhausted, freezing (hypothermia) and starving.
To support our actions, click here.
SSF has also set up and outfitted a mobile field unit in a 6-seat ambulance-bus which is stationed at the Polish border for now. Click here to see the video.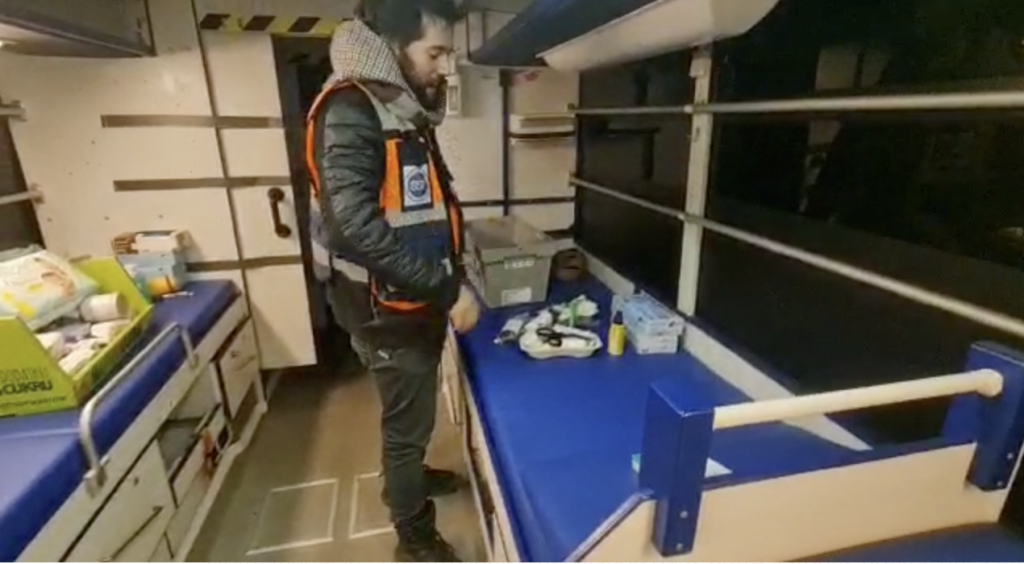 Dr Pierre Catoire supervised the setting-up of the medical units
Food distribution – Refugee Shelter
SSF distributed food and warm clothing for the children (blankets, gloves, shoes, socks, woolen caps).
SSF set up a third, 40-meter long, 15-meter wide tent that can hold 150 people. This tent has cots, benches and a play area for the children, and it is heated. For safety reasons, this tent is for women and children only. The refugees who show up in the middle of the night can rest in this tent, they can eat and they can stay warm while they are waiting for someone to help them. To date, 11,600 people have benefited from this program.
SSF ships war medications to Ukrainian hospitals
Since the first days of the war, through purchases and donations in kind arriving from all over Europe, we have been able to deliver 110 tons of medical supplies inside the Ukraine. The first shipments were delivered to 6 Ukrainian hospitals (Lviv, Dnipro, Kiev, Louhansk, Odessa, Zaporijia), then we supplied civilian and military medical facilities, then orphanages.
The equipment was shipped to these 16 cities: Lviv, Odessa, Biliaïvka, Kiev, Dnipro, Louhansk, Zaporijia, Mykolaïv, Donetsk, Vassylivka, Mykhailivkha, Kherson, Kharkiv, Bila Tserkva, Bachtanka, and Youjne.
Evacuation of women and children – Medical evacuations
SSF helped 100 women with infants or children leave the Ukraine, escape from hell.
SSF also arranged the medical evacuation out of Ukraine of 23 people, including elderly, disabled people, people with serious conditions and women in labor.
Setting up and supplying refugee shelters in Ukraine
SSF has also set up refugees shelters and is keeping them supplied to this day, in 4 Ukrainian cities: Zaporijia, Mikolaïv, Biliaïvka and Odessa.
Ukrainian refugees are now over 5 million. The humanitarian situation is totally chaotic.
SSF is the field to accomplish this top-priority humanitarian mission.
We need your help to be able to pursue this mission.
We need your help to save lives in the Ukraine.
To donate, click here.
THANK YOU!