Rescuers Without Borders (SSF) was chosen from dozens of organizations to receive this year's award from the International Development Association – SIED Israel.
The award was given to the most influential organizations in the advancement and repair of the world, on behalf of the State of Israel.
The award was given by the President of Israel, Walla news, And Sid organization.
Arie Levy, the organization chairman was chosen to get the award for cross-border activity in the name of the State of Israel for 18 years.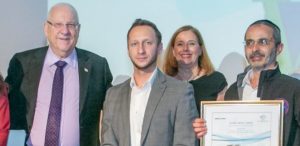 The event took place at the Israel Museum, under the guidance of Orly and Guy.
Honored with their presence the president of Israel, ministers and ambassadors from around.