Article published on I 24 on May 13, 2021
Sauveteurs Sans Frontières, or SSF, is a group of volunteer rescuers who are very familiar with Israel and all its regions. Most of them are from Judea and Samaria, a complex, conflict-ridden area, where the upside is a wealth of opportunities to learn fast and acquire hands-on experience. Moreover, SSF rescuers have earned a solid field experience through their international missions where they are on the front lines to help when a natural disaster strikes. This past week, SSF has deployed 80 rescuers to the south of Israel with a crisis command center to manage the rescue efforts.
Barouh, one of SSF rescuers, told about his activities yesterday, when Israel was being bombed nonstop. He woke up with a jolt when the alarm sounded in Ashkelon at 6 in the morning. Barouh was dispatched to the spot where the rocket had landed and he treated the wounded who were just sitting there in shock. Then he joined other SSF rescuers who had been dispatched to help in Netiv Haasara. On their way there, they stopped to rescue a female soldier who had passed out, then to try to help a woman who was hyperventilating because of the stress. Later, outside Netiv Haasara, they saw a unit of Tsahal Medical Command posted on a dirt road.
The meeting between SSF civilian rescuers and the military rescuers was really moving. A couple hours earlier, this unit of Tsahal Medical Command had treated soldiers whose jeep had been hit by an antitank shell launched by Palestinian terrorists. One soldier had been killed, two were severely wounded. They were bitter but they were still able to talk about this with their SSF "colleagues" and they shared other stories about terrorist attacks and rescue missions. Sharing experiences under such circumstances is very comforting and it helps you cope with the stress of the situation. Needless to say, the Tsahal rescuers had used a lot of supplies to help the wounded soldiers and they were out of ket, a next-generation tourniquet designed by a US-Israeli that can stop the most severe bleeders. Running out of supplies to save lives is the scariest thing that can happen to a rescuer. Medical Command was going to send more supplies, but when? In times of war, an hour feels like a whole day. Therefore, the SSF team gave them their own ket (they were able to scare up 8), they gave them bandages, and they even gave them a gurney!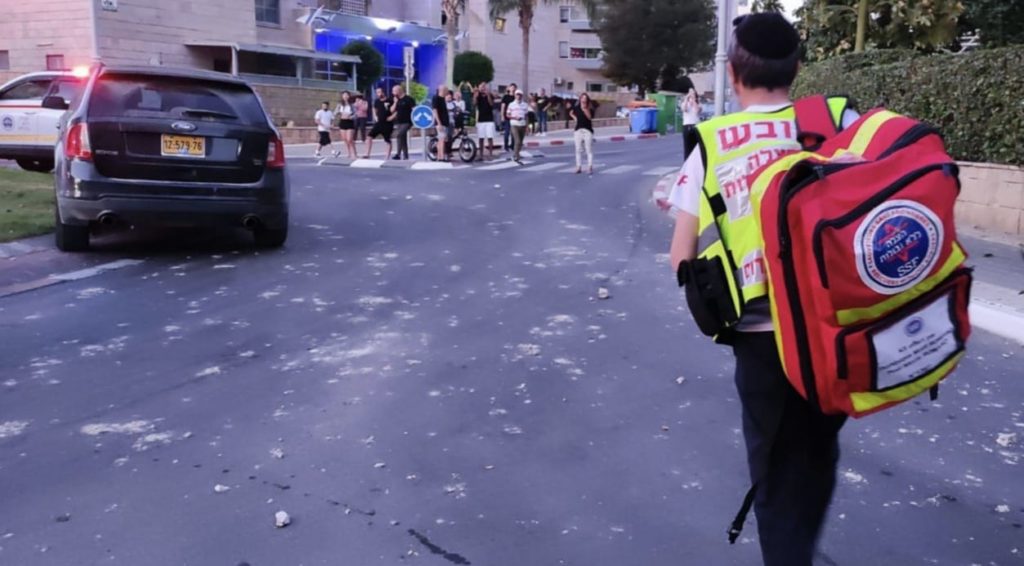 Later that day, SSF rescuers went back to Ashkelon where the situation was really bad. Dozens of alerts had sounded every hour, and the rescuers treated several people who were wounded in 5 locations that had been struck by missiles. The SSF team then joined MDA rescuers in their station, and everyone could feel the camaraderie. SSF rescuers also stopped at each military checkpoint to hug the soldiers and give them a cold XL, which they really appreciated in this heat… All these small attentions may not look like much but they really help unite the people of Israel when they are going through hardship.
This past year has been difficult for SSF and many associations because of the economic consequences of COVID. SSF needs to deploy more by creating more field teams, and they need to buy more medical gear and protection equipment for the rescuers such as helmets and kevlar vests.
To help SSF continue its rescue work and save lives, please donate here.